Click for Equipment Listing
11 Axis Swiss Tsugami Machine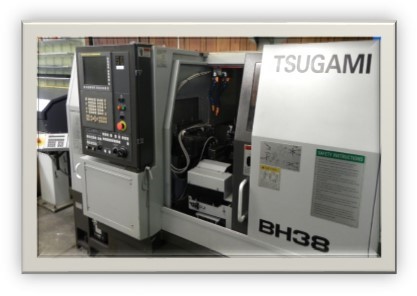 Model MAM72-25V PC10 with GTech 30i Control, Integrated Multi Pallet Pool, Ten Pallet Floor System, 240 Tool Capacity, Ten H.P. 15,000 R.P.M. Spindle, High Pressure Coolant through the spindle, NC-3 Laser Tool Setting Probe, with Laser Tool Recognition for lights out unattended function, Rigid Tapping, Remote Pulse Generator, 360,000 Position Rotary Table, 9.8" x 9.8" Workpiece Size, Rotary Wiper, Firetrace Automatic Fire Extinguisher, Filtermist system, and chip conveyor.
CNC 4 Axis Vertical Machining Centers
Model VM-5III with 30 Tools, Fanuc Model 160iS Control with Remote Pulse Generator, automatic shutoff, 41" x 22" Table, 41" x 20" x 20" Envelope, 360,000 Position (0.001 Degree Resolution) Helical Interpolation, 12" Rotary Table, Oil Hole Drill Coolant System, Rigid Tapping, High Pressure Coolant,10,000 RPM, 20 H.P., 1760 lb. maximum piece weight.
Model PUMA 400 LMB with Fanuc Oi-TD CNC control. The machine has a 50 H.P. main spindle motor with 2,000 RPM main spindle. Equipped with a 21" Chuck and a 4.60" through hole. 22" cutting capacity with 80" turning length. High torque Isolated Gear Box. Heavy duty 12 station turret which is capable of holding 12 live tools. The turret is equipped with a 15 H.P. motor that will generate 103 FT-lbs. of torque. Programmable tailstock with a #5 Morse taper Quill. LNS Hydraulic steady rest equipped with coolant on the rollers. The Chuck can hold a 1,540 lbs. part, and between centers the lathe can turn a 4,400 lb. part. Equipped with tool presetter and chip conveyor.
CNC 4 & 5-Axis Turning Centers
Model WT150 MMY with Fanuc 31iA control opposing twin spindles with 2.5" bar feed capacity. 5,000 RPM spindle speed with a full 5 axis milling head. The left spindle is 8" Autoblok with a 6" right spindle. 30.70" maximum turning length with 7.87" turning diameter both spindles. In/process measurement/auto center optical tool probe. 5 axis software A1 contour control (200 block look ahead). The machine has circular and Helical Interpolation. Parts eject cylinder with air blow parts catcher. (1) chip blaster (1,000 PSI) with a Turbo MicroScraper 500 chip conveyor. Automatic power off fire suppression system.